Easiest Whole Wheat Pizza Dough
This is truly the Easiest Whole Wheat Pizza Dough recipe ever! It's chewy, soft and crispy all at the same time. It's divine pizza with a healthy twist!
Take the healthy twist a bit further and use this incredible whole wheat dough on my other winning favorite recipes. Try it in these Incredible Homemade Calzones, Quick and Easy Stromboli or Homemade Stuffed Pizza Bites. They'll taste amazing!
Perfect Whole Wheat Pizza Dough
Pizza! One of life's greatest food creations! Using whole wheat pizza dough takes your pizza to a whole new level. So many people turn up their noses at whole wheat, claiming it being dense, tough and tasting bland. This dough recipe will change all that. This whole wheat pizza dough is light, tender, with a slight crunch to its chewy texture. It is full of flavor and so good. You have to try it to believe it. Whole wheat pizza can be done, and it can be done deliciously.
We love homemade pizza at our house. And I love being able to serve a healthier option. Pizza night is only going to get better with this whole wheat pizza dough. I love pizza nights because the whole family gets involved. From rolling out the dough to topping it, there is something that everyone can participate in. Whip up this incredible whole wheat dough tonight!
Healthy Whole Wheat Pizza Dough Ingredients
Simple ingredients that are easy to find make up this incredible whole wheat pizza dough.
Lukewarm Water: Keep it between 80 degrees and 110 degrees for optimal temperature.
Yeast: Active dry yeast
Sugar: Feeds the yeast
Salt: Adds flavor and controls the yeast.
Whole Wheat Flour: Make sure the flour is fresh.
Ingredients for Spinach Pesto Pizza 
Pesto Sauce: Jarred or homemade pesto
Mozzarella Cheese: Use freshly grated for the best melting.
Spinach: Fresh spinach
Mushrooms: Use your favorite button or cremini mushrooms.
Cherry Tomatoes: Cut them in half
How to Make Homemade Whole Wheat Pizza Dough
This awesome whole wheat dough takes a bit of time to make but it's totally worth it. The tender, chewy, soft yet a tiny bit crispy crust is the perfect base for your favorite toppings. Let's get to baking this pizza dough!
Mixing the Dough: In the bowl of a stand mixer, add the water and the yeast.  Let proof for 5-7 minutes.  Add in the sugar, salt and wheat flour.  Using the dough hook on medium mix until the dough starts to form.  Remove form the stand mixer and shape into a ball.
Let Rise: Add the olive oil to a medium sized bowl and add the dough.  Cover and let rise for 30 minutes.
Start Baking! Preheat oven to 400 degrees.  Divide the dough in half.  Roll out the dough to 1/4 inch thick and place on a pizza baking sheet or stone.  Add The pesto, cheese, mushrooms and cherry tomatoes.  Bake for 12-15 minutes or until golden brown.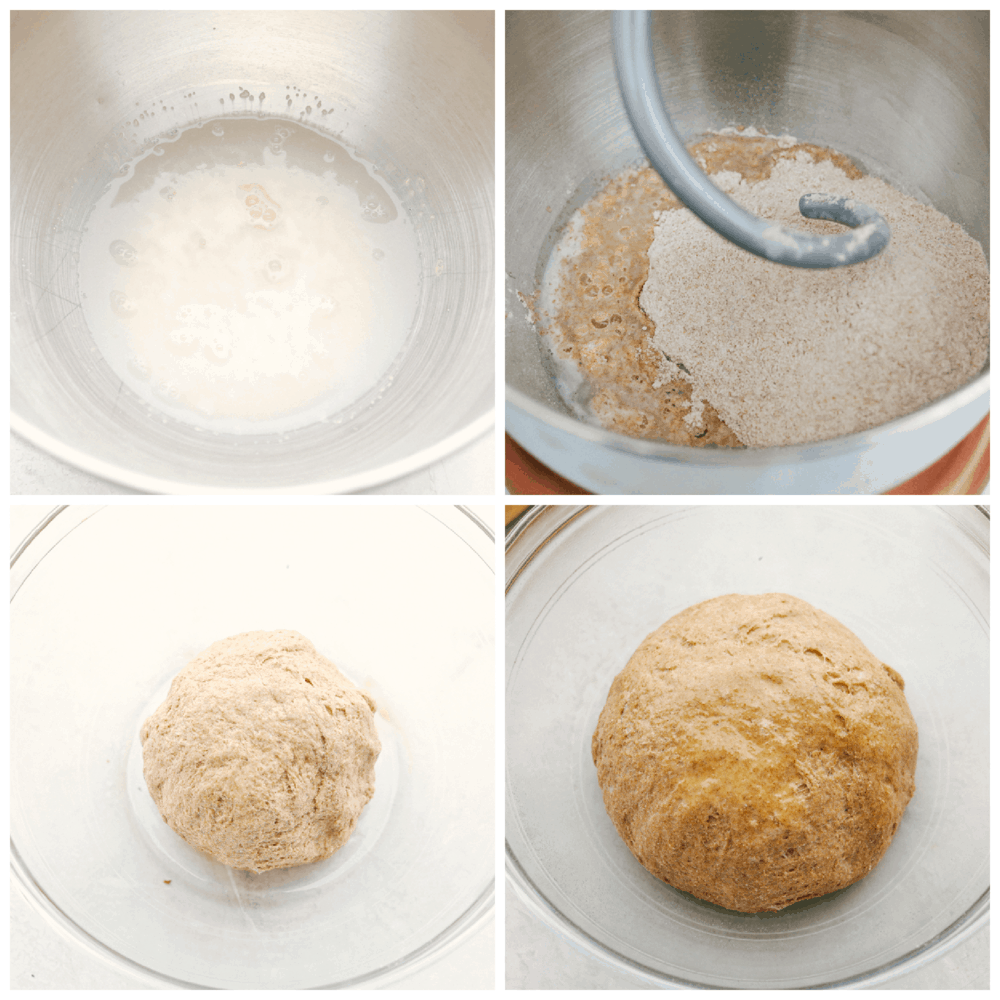 Whole Wheat vs All Purpose Flour
Both flours start from the same plant and kernel of wheat but are processed very differently giving them each a distinct color, flavor and texture. Whole wheat flour is ground into flour using the entire kernel of wheat. This creates the brown color, heavier texture and richer flavor. White flour or all purpose flour removes the most nutrient rich parts, the bran and germ before grinding.  This makes the flour white, and lighter with a milder flavor. So using whole wheat in your pizza dough is definitely a good thing.
Nutrition: Because of the way whole wheat flour uses the whole kernel it is considered healthier. It is an excellent source of protein, fiber and a variety of vitamins and minerals. For half a cup of whole wheat flour you get 8 grams of protein, and 8 grams of fiber.
Buying: When shopping for whole wheat flour watch your labels and make sure they say 100% whole wheat. There are lots of labels that seem like they should be whole wheat but aren't completely.
Substitutions: Whole wheat flour can be used in equal amounts as white or all purpose flour in any recipe. Remember that it will have a different texture and color than if you used white flour. If I am substituting in whole wheat flour for white flour, I usually do half and half to start with. Then I can tell how the recipe will respond to the different flour. Sometimes you just need to use white flour. But for this pizza dough, the whole wheat is perfect!
Tips For the Best Whole Wheat Pizza Dough
Pizza is a very forgiving dish. The pizza dough can be rolled out wonky and it will still taste amazing. Everyone will love it no matter what.
Water Temperature:  To make sure your yeast grows you don't want your water too hot or too cold. Shoot for between 80 and 110 degrees.
Whole Wheat Flour: Make sure your flour is fresh. Store whole wheat flour in the fridge or even freezer for longer shelf life. Smell your whole wheat before using it, if it smells a bit stinky don't use it.
Half and Half: If you want to divide the whole wheat dough, use half whole wheat and half all purpose flour.
Substitute: You can substitute out the sugar and use honey if you wish. It blends beautifully with the whole wheat.
Roll it: How thick or thin you roll your dough will determine the chew and crispiness of the crust. The thinner the more crispy it will be. The thicker the more of a chew it will have.
Make it Individual: Divide the dough into smaller balls and roll out for personal pan sized pizzas. Let your family and friends top their own to their hearts content.
What kind of Sauce is Best?
There are so many different sauces that will be so tantalizing for this whole wheat dough. Pesto, Homemade Alfredo, Marinara or BBQ Sauce are good starters. Even a simple swipe of olive oil can be a good base for this whole wheat dough.
Topping Ideas
There are endless possibilities for toppings. With this pizza dough everything tastes marvelous. One of my favorite things about homemade pizza is that you can top it anyway you want! From vegetables to meats, and everything in between you can really get creative. But here are some good ideas to get you started.
Freezing Whole Wheat Pizza Dough
This whole wheat dough is not only beautiful to work with but a perfect way to have dinner anytime you want to. You can make multiple batches to have some now or freeze some for later, when you need a quick dinner idea. I love being able to pull things from the freezer when I need a dinner in a pinch, and this pizza dough is just the thing!
To Freeze: After the whole wheat pizza dough has risen spray it with cooking oil all over, or using your hands and some olive oil, oil all the surfaces. Wrap tightly the dough in plastic wrap then place gently in a freezer bag. Whole Wheat dough will keep for up to 3 months.
To Thaw: Place the pizza dough in the fridge overnight. When ready to use let it finish thawing on the kitchen counter for 30 minute or until room temperature. You can also simply thaw on the whole wheat dough on the counter till it comes to room temperature as well. Roll out, top and bake as desired.
Whole Wheat Pizza Dough
Prep Time 40 minutes
Cook Time 15 minutes
Total Time 55 minutes
Author Alyssa Rivers
Servings 8 Slices of Pizza
---
This is truly the Easiest Whole Wheat Pizza Dough recipe ever! It's chewy, soft and crispy all at the same time. It's divine pizza with a healthy twist!
---
---
1 1/2




cups




luke warm water

1




package active dry yeast




2 1/4 teaspoons

1




Tablespoon




sugar

1




teaspoon




salt

2




cups




whole wheat flour
Spinach Pesto Pizza:
1/4




cup




pesto sauce

1




cup




mozzarella cheese




shredded

1




cup




spinach

1/2




cup




mushrooms




sliced

1/4




cup




cherry tomatoes




halved
---
---
Serves: 8
Calories183kcal (9%)Carbohydrates25g (8%)Protein8g (16%)Fat7g (11%)Saturated Fat2g (10%)Cholesterol12mg (4%)Sodium455mg (19%)Potassium170mg (5%)Fiber4g (16%)Sugar2g (2%)Vitamin A625IU (13%)Vitamin C2mg (2%)Calcium97mg (10%)Iron1mg (6%)
All nutritional information is based on third party calculations and is only an estimate. Each recipe and nutritional value will vary depending on the brands you use, measuring methods and portion sizes per household.